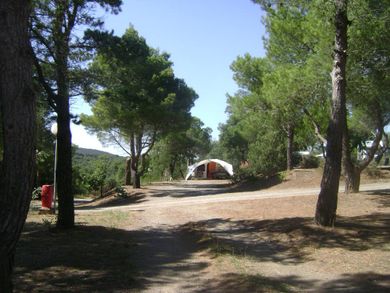 The campsite
Al Comu offers 30 spacious pitches in a nature lovers'paradise. Under the shade of cork, oak, pine and olive trees and amidst their heady perfumes, a wide variety of birdlife flourishes.
Al Comu is a "real" campsite for tourists accommodating guests with tents, caravans or campervans. There are no mobile homes, chalets, or any other form of accommodation.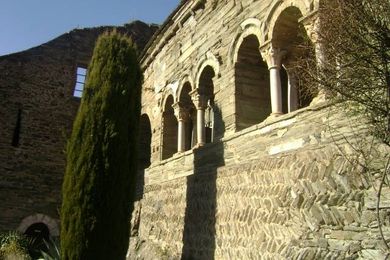 A unique area
Situated in the Catalan inlands, it is little known despite its varied landscapes and magnificent scenery. Close to the sea, the Spanish border and the historical city of Perpignan, it is an ideal location from which to discover the main treasures of the region.
In a rural setting at the entrance to the small village of Llauro, Al Comu is the ideal place for relaxing in nature's peaceful atmosphere. It gives easy access to the numerous tourist sites. A must is a stroll through the picturesque alleys of Llauro after a good meal in the village restaurant.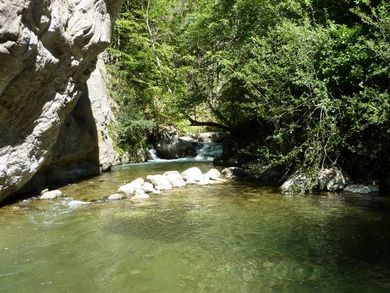 Activities in the region
The beautiful, hilly area offers ideal opportunities for walking and mountain or road biking. For water sports enthusiasts, the sea provides a variety of attractions as do the clean and refreshing rivers with rafting and canyoning.
The region is also rich in local history. Discover its castles, fort, churches, abbeys, cathedrals and museums. Enjoy the joyful atmosphere of the many markets, offering the opportutnity to taste the local produce. Visit the surrounding villages of Ceret, Castelnou and Collioure and the Spanish cities of Gerona and Barcelona. Explore the many vineyards and visit the cellars of the famous Roussillon wine producers. Bask in the hot sunshine of the Mediterranean beaches.
Here there is something for everyone.
In 2024, the campsite will be open from March 30 to October 20.
If you have any queries, please do not hesitate to contact us.
Gijs van Nifterik
Muriel Paumé